Married Man Vault: Ep. 1.17 "Dale is Lame for 20 Min"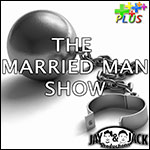 On this episode of The Married Man Podcast: Jack and Dale answer some listener questions. This episode was originally released on December 18, 2007.
Email: MarriedManPodcast@gmail.com. Phone: (510) 69-TAFFY.
Would you like to support Jay and Jack? Become a patron! Check out their Patreon page for more information at www.patreon.com/jayandjack.