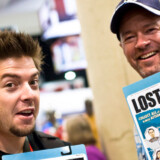 We've been working really hard to bring you a better experience from the start and we've done it.  With our new site, you'll be able to keep up with all of the Jay and Jack podcasts, including photos and videos from your favorite TV shows.  We've also added a forum where you guys can chat about the latest podcasts and get together with your friends and podcasting community.  We've also added a new plus membership program.
Everyday, we're going to bring the TV experience to you in any way we can.  There will be new features added to the new Jay and Jack site every day and you'll be able to help beta test the latest features of Jay and Jack with our Beta program
We're glad to bring you a great line up of podcasts and TV entertainment so you can enjoy your TV more. Welcome to Jay and Jack!  Stay tuned for more!
read more