Sports Talk with 3 Stupid Guys: Ep. 1.23: "A Little Bit of Everything"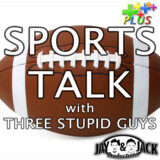 Jack, Matt, Dale & Russ talk a little football, a little hockey, a little Walking Dead, a lot about Jack in the Box, and most importantly, announce our NCAA Basketball Bracket Challenge, in which the winner gets one year subscription to Jay and Jack for free!
Are you a football fan who wants to listen to Jay, Jack and friends talk about football each week? Then become a Jay and Jack PLUS Member today! Click here to join.
Podcast: Play in new window | Download
Subscribe: RSS