Sports Talk with 3 Stupid Guys (MP3): Ep. 2.4: "NFL Draft Recap"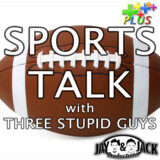 On this week's Sports Talk with 3 Stupid Guys, Jack and Matt discuss the NFL draft. Matt tries to debut a new segment called MLS Minute, but Jack isn't necessarily having it. Let them know if you want to hear more of Matt's Major League Soccer segment on the Jay & Jack Facebook Group!
Are you a sports fan who wants to listen to Jay, Jack and friends talk about football each week? Then become a Jay and Jack PLUS Member today! Click here to join.
Podcast: Play in new window | Download
Subscribe: RSS