Ramblecast (MP3) Ep. 4.13: "Taste Testing"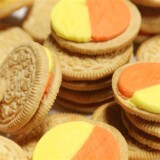 Jay and Jack taste test Candy Corn flavored Oreos LIVE on this week's Ramblecast. There's also weird news, a new Vs., and Jay is in the hot seat for The Five.
Do you long for the days of old school Jay and Jack and want to hear more of the return of the Ramblecast? Then become a PLUS member! Click here to sign up!
Podcast: Play in new window | Download
Subscribe: RSS