Ramblecast (MP3) Ep. 4.16: "Hater"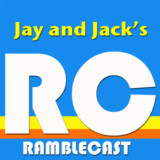 On this week's edition of Jay & Jack's Ramblecast, Jay and Jack do a lot of rambling. There's also weird news. Find out who won last week's Vs. and what this week's Vs. is.
Podcast: Play in new window | Download
Subscribe: RSS
Do you want to hear more from Jay and Jack? Then become a PLUS member! Click here to sign up!