Walking Dead with 3 Stupid Guys: Ep. 1.01: "The Suicide King"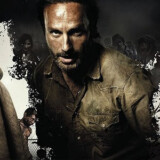 On this first podcast of The Walking Dead with 3 Stupid Guys, Jack, Matt, and Russ recap this mid-season premiere while adding their input. They make their predictions for who will live or die in the rest of season 3, and if you want to call into this podcast, tune in LIVE to Talk Shoe on Monday nights at 10pm EST.
Are you a sports fan who wants to listen to Jay, Jack and friends talk about The Walking Dead each week? Then become a Jay and Jack PLUS Member today! Click here to join.
Podcast: Play in new window | Download
Subscribe: RSS