Sports Talk with 3 Stupid Guys: Ep. 5.07: "Week 7"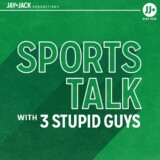 The Stupid Guys begin with Walking Dead "Strangers" (S.5 Ep.2) and switch to Sports Talk at 40:30 where Jack complains about Thursday night games, Matt imagines Peyton Manning as Frankenstein, and Mike closes the show with trivia. Russ was too sick to join in due to sounding like the walking dead.
Are you a sports fan who wants to listen to Jay, Jack and friends talk about football each week? Then become a Jay and Jack PLUS Member today! Click here to sign up! Be sure to join their Facebook page at www.facebook.com/groups/jayandjackgroup.