Walking Dead with 3 Stupid Guys: Ep. 2.12: "Remember"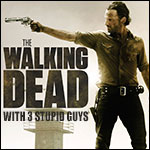 The Stupid Guys discuss Memphis Matt, Rochester Russ is convinced something's up with Alexandria, we learn about Miami Mike's day job, and Jack can't "remember" when to end this podcast.
Are you a Walking Dead fan who wants to listen to Jack, Matt, Mike and Russ talk about the AMC show each week? Then become a Jay and Jack PLUS Member today! Click here to sign up! Be sure to join their Facebook page at www.facebook.com/groups/jayandjackgroup.