Walking Dead with 3 Stupid Guys: Ep. 2.14: "Spend"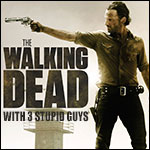 The Stupid Guys are missing Jack and Russ this week, and Matt has to fill in hosting the show. Scot joins in as the 3rd Stupid Guy as everyone discusses the "Whoooo Done it" mystery of the broken owl. Like a flaming mullet in an action sequence, this episode stays on topic more than most.
Are you a Walking Dead fan who wants to listen to Jack, Matt, Mike and Russ talk about the AMC show each week? Then become a Jay and Jack PLUS Member today! Click here to sign up! Be sure to join their Facebook page at www.facebook.com/groups/jayandjackgroup.