Charity Podcast for Autism Speaks 2015: Media Junkyard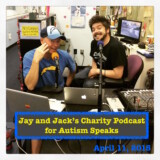 The gang from Media Junkyard reunite for the first time in two years during Jay and Jack's 2015 charity podcast to raise money for Autism Speaks.
Do you want to hear more from Jay and Jack? Then become a PLUS member! Click here to sign up!