Married Man Vault: Ep. 1.13 "I Can't Roll Over"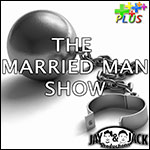 On this episode of The Married Man Podcast: Jack and Dale get into some listener questions and have a new Warm Taffy segment. This episode was originally released on October 31, 2007.
Email: MarriedManPodcast@gmail.com. Phone: (510) 69-TAFFY.
Want to subscribe to the Married Man Show? Then become a Jay and Jack PLUS member today.