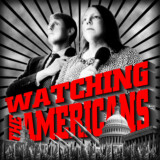 Jay & Jack's Podcast Showcase Series is back for the summer! This week, they are featuring Watching The Americans by Chip & Sara Mimms.
In this week's Watching the Americans, we are amazed by the Season 2 finale of The Americans with Episode 13 "Echo." This mind-blowing and very satisfying episode was written by Joel Fields and Joe Weisberg and it was directed by Daniel Sackheim. The original air date was May 21, 2014.
In the news, we recap the uptick in the finale ratings and agree with The Wire's "Wig of the Week" selection. We link to a gallery of Season 1 wigs and a story on screeninvasion.com on why The Americans is the best drama on TV. We also find out there is a great charity auction to raise money for the poor that has one prize we would love – a visit to the set of the Americans in Season 3!
For the episode discussion, we see the payoffs for all the action in Season 2. Stan makes a decision while Nina's fate hangs in the balance. Fred gets the paint for Stealth and pays a steep price for it. Larrick at last makes his move and sets up a classic confrontation with Philip and Elizabeth at the cabin. We learn the identity of the Conner family's killer, and we see where Jared will end up. Paige takes part in a demonstration that could foreshadow her future. Finally, a familiar face returns and gives new shocking orders to Philip and Elizabeth, who must decide whether or not to follow them.
In our history segment, we rock with Golden Earring and their classic 80s cut Twilight Zone, visit Cheyenne Mountain, and learn about Civil Disobedience/Nonviolent Protests. During tech of yesteryear we boot up a floppy disk, see an EMP grade hardened safe, and sport a Smith & Wesson Ladysmith.
We love to hear your thoughts about The Americans so please send them by emailing text or audio feedback to watchingtheamericans@gmail.com or calling us at 919-907-0542. Follow us on Twitter @WatchAmericans. Please like us on our Facebook page Watching The Americans.  And if you do enjoy the show, please rate us or better yet rate and review us in iTunes!
Do you want to hear more from Jay and Jack? Then become a PLUS member! Click here to sign up!
Podcast (jay-and-jack-plus): Play in new window | Download
Subscribe: RSS
read more