The Week of Comic Con is Here!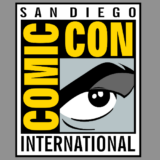 San Diego Comic Con International 2011 approaches this week and the Jay and Jack TV crew are heading out there to cover as much as we can. We'll bring bring you the best in TV so you'll know what's coming up next! Stay tuned for more videos, and podcasts, as well as the Jay and Jack Panel coming strait from this year's Comic-Con.
If we see you out there, come say hi! We'll be at the Santa Rosa Room at the Marriott Hotel on Saturday from 2:00 to 3:00 pm.