Married Man Vault (MP3): Ep. 1.2 "Good Vibrations"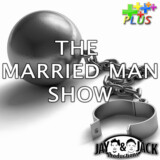 On this episode of The Married Man Podcast: Single Guy Dale and Married Man Jack answer their first batch of listener questions.  Jack also goes over his Top 10 Reasons a Man Gets Married. This was originally posted on July 14, 2007. The complete set of archives will be posted on the Jay and Jack PLUS feed.
Want to subscribe to the Married Man Show? Then become a Jay and Jack PLUS member today. CLICK HERE to join!
Podcast: Play in new window | Download
Subscribe: RSS