Married Man Show: Ep. 4.24 "No Dale Simpson"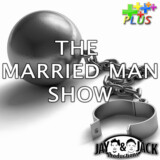 Jack and Jay are here to answer all of our questions on marriage, dating, relationships, and life. Dale? He's here, but only when he's awake…Email them at marriedmanpodcast@gmail.com or call at (510) 69-TAFFY with any of your questions or comments!
Want to subscribe to the Married Man Show? Then become a Jay and Jack PLUS member today. CLICK HERE to join!
Podcast: Play in new window | Download
Subscribe: RSS