Jay and Jack TV: Ep. 2.28 "Field of Dreams"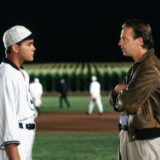 It's baseball talk on this week's Jay and Jack TV, since Jay made Colleen watch Field of Dreams for the first time. But there's also plenty of TV talk too! Jay & Jack discuss your favorite TV shows, including Community, Survivor, Mad Men, 30 Rock, the return of Revenge and much more!
Want to listen to Jay and Jack talk TV every week? Then become a PLUS member today! Click here to sign up!
Podcast: Play in new window | Download
Subscribe: RSS