Married Man Vault: Ep. 1.4 "Why He Doesn't Like the Movies"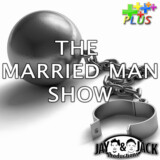 We delve more into the backstory of Warm Taffy in this vintage episode of The Married Man Podcast that originally aired August 19, 2007. The complete set of archives will be on the Jay and Jack TV PLUS feed, so sign up today for a penny!
Email: MarriedManPodcast@gmail.com. Phone: (510) 69-TAFFY.
Want to subscribe to the Married Man Show? Then become a Jay and Jack PLUS member today. CLICK HERE to join!
Podcast: Play in new window | Download
Subscribe: RSS