MetroBuzz Ep. 107: "Reunion"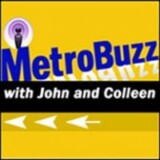 Special thanks to Jay & Jack and to all of the listeners for donating to Autism Speaks to make this reunion possible. John & Colleen's first MetroBuzz episode in 3 years! On this episode, they tak about John's California Trip, Disney Rides, Urban Dictionary, News, Top 5 Superhero Movies, Spotlight: Mysterious Universe/Fact or Faked: Paranormal Files.
Visit MetroBuzzPodcast.com for more information on MetroBuzz. To become a Jay and Jack PLUS member, subscribe to their PLUS feed. CLICK HERE to join!
Podcast: Play in new window | Download
Subscribe: RSS