Ramblecast (MP3) Ep. 4.5: "Lost on the Turnpike"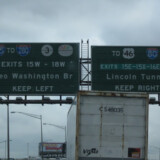 On this week's edition of Jay & Jack's RambleCast, the Jay & Jack talk about baseball, Jay's recent trip to NY, the return of Dallas, and more. Find out who won last week's Vs. and hear what this week's Vs. is!
Would you like to hear more of The RambleCast? Then become a PLUS member! Click here to sign up!
Podcast: Play in new window | Download
Subscribe: RSS