Walking Dead with 3 Stupid Guys: Ep. 1.05 "Arrow on the Doorpost"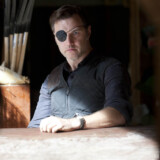 Season 3, Ep. 13; The 3 Stupid Guys breakdown the stare downs, and there were plenty to go around: Jack contemplates if he can kill Bud Selig if he mistakes him for a zombie, Matt goes in depth about the meaning of the title, and Russ is mistaken for Merle.
Are you a TV fan who wants to listen to Jay, Jack and friends talk about The Walking Dead each week? Then become a Jay and Jack PLUS Member today! Click here to join.