Podcast Showcase Series: Geek Girl Soup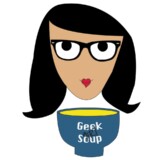 The final podcast to be featured on the Podcast Showcase Series is Geek Girl Soup.  In this episode, which aired in November 2011, Amelia and Susan discuss two of their favorite Thursday night shows, The Big Bang Theory and Community. Which do you like best?  Check them out at http://www.geekgirlsoup.com/.
Do you want to hear more from Jay and Jack? Then become a PLUS member! Click here to sign up!