Walking Dead with 3 Stupid Guys: Ep. 2.06: "The Grove"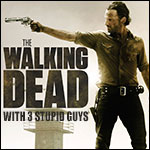 Jack, Matt, and Russ discuss Season 4 episode 14 of the Walking Dead, titled "The Grove," and then make their NCAA Bracket picks during the second half of the show. Towards the very end the guys return to talk Walking Dead and a little TV talk.
Are you a Walking Dead fan who wants to listen to Jay, Jack and friends talk about the AMC show each week? Then become a Jay and Jack PLUS Member today! Click here to sign up! Be sure to join their Facebook page at www.facebook.com/groups/jayandjackgroup.