Sports Talk with 3 Stupid Guys: Ep. 5.04: "Week 4"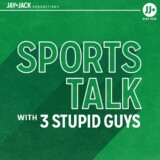 The guys made their Week 4 picks: Jack explains how refs keep their heads dry from sweat, Russ show's up late with his picks from his insider D'Qwan, and Matt learns why you don't look a gift horse in the mouth. Mike reminds for the FOURTH time that he was last year's champ. If you'd like to join in the chat, the Stupid Guys record live on Tuesday night at 11:30 PM (EST).
Are you a sports fan who wants to listen to Jay, Jack and friends talk about football each week? Then become a Jay and Jack PLUS Member today! Click here to sign up! Be sure to join their Facebook page at www.facebook.com/groups/jayandjackgroup.