Sports Talk with 3 Stupid Guys: Ep. 5.05: "Week 5"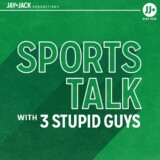 The guys made their Week 5 picks: Jack explains his NFL crackpot theory involving Brady and Belichick, Russ shares his on air excitement about the Royals winning, and remember that November 1st is Daylight Savings, so fall back.
Are you a sports fan who wants to listen to Jay, Jack and friends talk about football each week? Then become a Jay and Jack PLUS Member today! Click here to sign up! Be sure to join their Facebook page at www.facebook.com/groups/jayandjackgroup.