Walking Dead with 3 Stupid Guys: Ep. 2.16: "Conquer"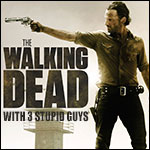 The season finale of The Walking Dead is also the 3 Stupid Guys' season finale. Hopefully, this podcast delivers just as much rich mythology and character development as TWD delivered in "Conquer". Russ is in full effect with his crackpot questions, and Jack's still riding high on the wedding weekend, but everybody agrees that Morgan was kung fu fighting.
Are you a Walking Dead fan who wants to listen to Jack, Matt, Mike and Russ talk about the AMC show each week? Then become a Jay and Jack PLUS Member today! Click here to sign up! Be sure to join their Facebook page at www.facebook.com/groups/jayandjackgroup.