Jay and Jack TV: Ep. 5.25 "Season 5 Finale"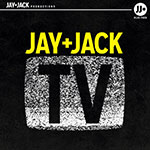 Jay and Jack TV has returned after a short hiatus while Jay was away for job training. Jay & Jack catch up on all the TV shows they've missed and talk about finale season. This is the season finale for Jay and Jack TV. Jay and Jack's Ramblecast will return next week in its place for the summer. Join their Facebook group at www.facebook.com/groups/jayandjackgroup.
Want to listen to Jay and Jack talk about TV? Then become a Jay and Jack PLUS member today. CLICK HERE to join.