Sports Talk with 3 Stupid Guys: Ep. 6.02: "Week 2"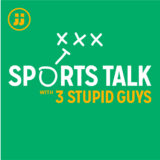 NFL Week 2: Jack, Matt and Mike are joined again by Jay as he produces the show. Jack dives into the lack of quality woodworking, Matt laments the Colts loss, and Mike shares his chance encounter with Miami Dolphins legend, Ricky Williams.
Are you a sports fan who wants to listen to Jack, Matt, Russ, Mike and friends talk about football each week? Become a patron! Check out their Patreon page for more information at www.patreon.com/jayandjack.